Mary Profitt began her work in jewellery in a small repair shop in Fredericton, New Brunswick, where she grew up. Travelling the next year to Calgary, Alberta, she entered into an apprenticeship, training under Danish Master Goldsmith Kirsten Ross for four years. She went on to set up a studio under her own name in Barrie, Ontario. Mary made jewellery while expanding her gallery to include the works of other artists. During this next 15 years she also participated in exhibitions, solo and group shows, and worked to promote art and fine craft in the area. Her jewellery has been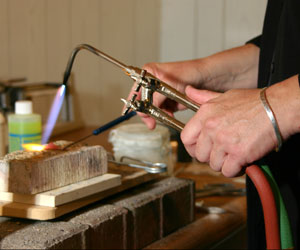 featured in Flare, Chatelaine and Homemaker's magazines.
During a seven year hiatus from jewellery making, Mary went on to work in fibre arts - spinning, weaving, felt making, and dyeing fabrics. She produces large art quilts, drawing on her years of design experience. For four years she ran a morning fibre arts workshop for adults with special needs within the organization of Camphill Communities.
In 2004 Mary went back to the bench, starting with a solo show, "New Work – Returning to Metal" at the Maclaren Art Center Gallery. She now sells her jewellery in art and fine craft galleries across Canada. She also continues to work with fibre arts, planning to produce several art quilts each year and has focused this design work around hand dyed fabrics.
In 2005 Mary became a creativity coach, studying with Eric Maisel, author of Fearless Creating and The Van Gogh Blues. She has worked with writers, painters and craftspeople, helping them to move past blocks and challenges to recommit to their daily studio work.
Mary has an affinity for two very different design styles – the clean lines and geometric shapes of modern art and the layered richness of ethnic and tribal art. She works to give both styles expression in her pieces.